Party Time Charcuterie Board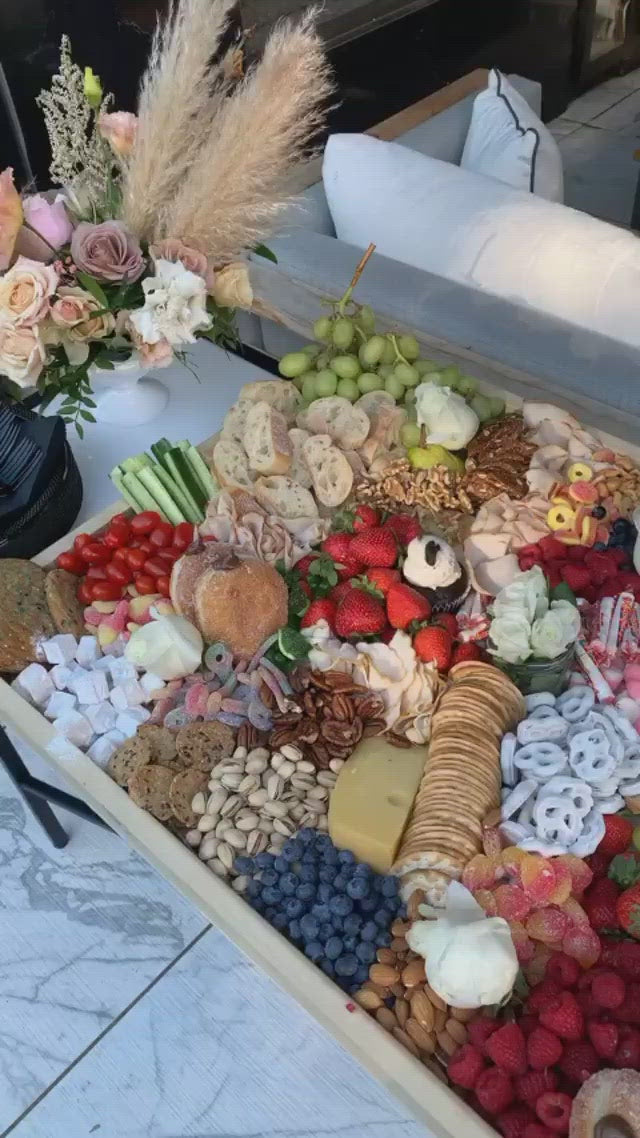 Party Time Charcuterie Board
Regular price
$98500
$985.00
See Below For Product Details & Delivery Information

A show-stopping, portable equivalent to a grazing table. Compliments any event or large gathering, this Party Bundle has something for everyone.  We are the only charcuterie company in Canada offering charcuterie boards of this size (and beauty).
Serves 40 - 60  (Provided on 4ft x 2ft handcrafted wooden board).
Options: All Savoury, All Sweet or Half Sweet & Half Savoury
Specialty Cheeses: We thoughtfully curate high-end quality cheeses, both soft and hard, local and international, with crowd favourties in mind.
Cured Meats: Premium charcuterie sourced from local businesses and always freshly sliced.
Accompaniments: Olives, Figs/Fig Jam (based on availability), Dried Fruit, Assorted Nuts, Jam, Honeycomb, Chocolate, Herbs & Garnish.
Grapes & Seasonal Fruit.
Artisan Breads & Crackers
+ Seasonal florals and A LOT MORE GRAZING GOODNESS.
Please note: The handcrafted wooden platter will need to be returned after use.  Following purchase, Olive & Fig will send over a payment link for a returnable platter deposit. 
As our platters are thoughtfully hand-styled, each platter we create is unique and may differ from the photos.
If you would like to include a handwritten note, or have specific dietary requests, please let us know in the box on the next page (cart).
Please select any dietary restrictions from the options provided above.
Vegetarian: All meat is removed and replaced with additional cheeses (yay!) and fresh fruit.
Nut-Free: All nut and nut-products will be removed. We take the utmost precautions for all allergies and follow the food safety guidelines in doing so. Please note we do not operate in a nut-free facility.
Gluten Free: Our fresh focaccia and artisan crackers will be replaced with gluten-free bread and gluten-free crackers.
Non-Pork: Our standard cured meats (pork) will be replaced with turkey and/or beef.
Vegan: All non-vegan ingredients (cheese, dips, meats, chocolate) will be replaced with vegan cheeses and additional fruit & vegetables.
For dietary requests not listed please make note at checkout or email us at hello@olive-fig.com for special requests.
Please note that our products are not prepared in an allergen-free environment. We cannot guarantee that any of products are free of allergens and we recommend that anyone with a food allergy refrain from consuming our products. 
We have partnered with a third-party delivery company that hand-delivers our products with the utmost professionalism and care. We offer delivery Tuesday to Saturday between 11:00 and 4:00. Please select "Express Delivery By Noon" if you require delivery by noon.
If you require your delivery by a specific time, please send us an email to schedule your delivery. For delivery details and FAQs please visit our delivery information page.
If you prefer to pick up, you may do so at our kitchen located at 65 Skyway Avenue in Etobicoke (427/Dixon).

For orders on Sundays and Mondays as well as any other special requests, please send us an email.
We are Toronto's favourite charcuterie delivery company. Published as Toronto's Best Charcuterie Board Company.
Our key differentiators:
Red Seal Chef: The only company of our kind with kitchen operations led by a Red Seal Chef professionally executing our products.


House-Made Offerings: The only company of our kind to offer house-made items such as our House-Made Focaccia, Sandwiches, our own marinated olives (Greek family recipe), Floral Shortbread Cookies, Edible Floral Brownie, and our Lemon Squares


Exceptional Service: Our Founders, with backgrounds in corporate management in HR & Finance, lead our customer service efforts. Our level of service is unmatched.


Uncompromising Quality & Presentation: Quality and presentation are the cornerstones of our charcuterie company. From the moment the ingredients are sourced to the time when the final product is ready for consumption, quality control is paramount. Every item that bears the name of the Olive & Fig is a guarantee of excellence.
As a trailblazer in the industry, we take immense pride in setting the standard for quality, creativity, and unmatched experiences.  Every item included in our charcuterie board, boxes and more are thoughtfully curated and styled with the utmost attention to detail. Discover the difference that sets us apart – because when it comes to charcuterie, we're not just the best; we're in a league of our own.